B&B Casa Manfredi
The B&B is located in the historic center of Manfredonia- the city founded by King Manfredia near by the sea and the Swabian Castle Angioino. Casa Manfredi was created after a careful restoration of the historic Palazzo Cafarelli. It is an eighteenth-century building with fine shelves under the balconies and a unique Romanesque cornice. It has two entrances: one has a characteristic courtyard (via delle Cisterne)a and the other a gate with a stylish portal (Corso Manfredi).
DISCOVER THE STRUCTURE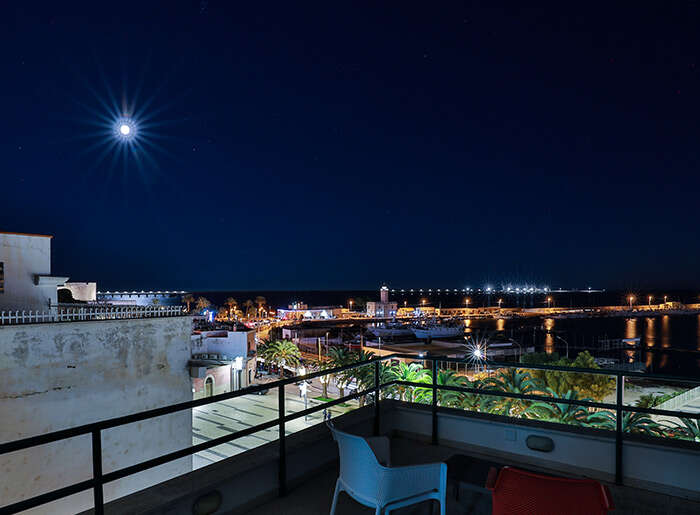 ALL YOU WANT
Our services
Sailing Gargano Coast is something that everyone should experience at least once.
BOAT CHART
Visit to the "faraglioni" with a stop to dive into the blue sea of the Gargano. A tour to discover the beauty of this amazing coast of Puglia, to discover caves and cliffs unique in the world and reachable only by sea (Grotta dei Contrabbandieri, Vignanotica beach, Pugno Chiuso, Grotta Campana, Grotta Sfondata... these are just some of the suggestive stages of the tour ).
ADMIRE THE BEAUTIES OF THE GARGANO FROM ABOVE
EXCURSIONS BY PLANE OR HELICOPTER
Immerse yourself in a truly unique and unrepeatable experience. Excursions by plane to admire the wonders of the coast and the whole Gargano from above.

Verified
Schönes Zimmer mitten im Zentrum Steile Treppe führt zum Empfang und Zimmer. Nette Begrüssung, hilfsbereit und auskunftswillig. Schönes sehr modern eingerichtetes Zimmer, Dusche mit Sichtglas, WC separat. Safe, kleiner Balkon. Kein Frühstück, dieses kann in unmittelbarer Nähe in einer Bar eingenommen werden.

Verified
Wundervoll Es gibt Orte die besucht man und man möchte nie wieder weg. Hierzu gehört auch das Casa Manfredi in Manfredonia. Alles ist wunderschön eingerichtet. Alles ist neu und modern. Wir haben in unserm Loft eine freistehende Badewanne, eine Terrasse und eine Küche. Auch das Frühstück ist liebevoll und lecker. Wir kommen wieder !!
Verified
Très bon choix mais ... Malheureusement réveillés par alarme (et grande lumière qui s'allume automatiquement dans la chambre sans pouvoir l éteindre) à 5h20... ça a bien duré 5-10 mn sans qu'on sache pourquoi. Puis à 9h10 on toque à la porte pour faire le ménage. Dommage car à part cela l'endroit est vraiment chouette : jolie chambre, très bien placée dans le vieux centre, accueil chaleureux (et en Anglais), conseils sur les restaurants etc...

Verified
CONFORTEVOLE Ho prenotato per i miei genitori in questo B&B. che dire, sono stati veramente soddisfatti. Ambiente pulito, accogliente e soprattutto in ottima posizione, vicino a tutto. Disponibilità di parcheggio. Lo consiglio

Verified
Accomodante e confortevole Ho mandato in questo hotel una coppia di miei collaboratori, come miei ospiti, ed a detta loro si sono trovati benissimo, camere ben arredate è titolare gentilissimo, si è reso anche disponibile al cambio camera. Davvero una struttura da sponsorizzare. La sceglierò nuovamente per fare bella figura.
Verified
"SOGGIORNO STUPENDO" Struttura confortevole,accogliente e arredata con gusto... situata nel centro di Manfredonia a due passi da tutto.Si affaccia su Corso Manfredi,la via principale che collega il centro storico col Castello e lungomare. La pulizia e'straordinaria e il personale e'molto gentile!!! La colazione e'ottima e abbondante e viene servita all'ultimo piano dove dal terrazzo si ammira un panorama spettacolare. Lo consiglio vivamente!!!

RicoRoccoRanger
03/07/2018
Verified
Great Manfredonia stay PROS (GOOD): Friendly Staff (Michael, Nicola) Nice roof-top Breakfast terrace [indoor and outdoor, requires use of stairs]. Nice lounging area [also on rooftop terrace] Location is close to attractions [on main pedestrian way] Comfortable bedding Excellent modern room styling Good water pressure Average noise from Housekeeping [3-out-of-5- "Bulls in a China shop"]. Average noise from doors, carts, etc. Great Espresso/Coffee/Tea-making equipment Excellent wi-fi [Ookla speed test: Download 84 Mbps; Upload 18 Mbps] CONS (NOT SO GOOD) No Elevator. However, there is a 'people-mover' seat to bypass the initial set of stairs NEUTRAL: Shower [in my suite] was outside bathroom [possibly requiring the provided screen, if multiple persons in room] SUGGESTIONS: n/a
Verified
Eccellente Sicuramente un eccezionale B&B, meglio di alcuni hotel proprietari gentili e sistemazione nel centro di Manfredonia a due passi da tutto. Il parcheggio per le auto è vicino ma volendo so che hanno un parcheggio privato a pagamento. Insomma eccellente!